This moment is calling us to truth—truth about ourselves, our inner pain and our systems of violence, our inner lack and our economies of scarcity. Most profoundly we are being called to truth about our relationship to death and dying, and to face our grief, anger and rage. 
Over the course of seven weeks in this new online practice and study group, Lama Rod Owens will guide us through the core meditation practices from his new book, Love and Rage: The Path of Liberation Through Anger. He will lead us in an exploration of our relationship with anger and our individual and collective trauma, inviting us to deeply and unashamedly come to know our rage and to accept it -- and learn how to use the wisdom contained within anger as ground for our liberation.
In this second iteration of the Love and Rage course, you will have opportunities to deepen your personal relationship to the practices in the book while connecting with other participants. We've extended the course to have more opportunities to work with each practice and explore ways to make them your own. There will be a practice leader throughout the entire course to support you deepening an honest and personal relationship to the practices.
This course is open to both beginners and those who are already familiar with meditation.
Course Themes:
Understanding Anger and Rage. This course will introduce a new understanding of rage, how to notice and call anger to consciousness in order to better identify our emotions and foster a liberatory relationship to our anger.
Embodiment. We will discuss how to work with pain and how trauma impacts the body. Lama Rod shows us how to hold space for our discomfort and ways to release it. In this way, the body can be a point of liberation when we work with trauma and identify pain within the body.
Grief Support. Both individually and collectively right now, we need support around our compounded grief. This course will introduce practices to help us move from fixation on pain to skillful mourning. When we actually begin to mourn and grieve, that mourning actually helps us to experience a spaciousness within our experience.
Happiness and Acceptance. Together we will focus on cultivating a deep acceptance for everything that arises in and around us while learning to love our anger. This sets the ground for us to have a restorative relationship to the great challenges we face collectively in the pandemic and the greater social-political climate.
Self-Care as Self Preservation. Lama Rod will offer his personal inspiration and thematic overview of how he structures his self-care practice. In addition to presenting a new framework for understanding our relationship to self-care, he will offer concrete suggestions for ways to incorporate self-care as a form of self-preservation within our own lives and work.
What You Will Learn:
How to work with anger and rage

for transformation and change

Compassion-based processes to manage cumulative trauma

How to be more embodied and bring awareness to the physical, mental, spiritual, and energetic aspects of ourselves

Ways to hold space for and take care of our pain

What self-care really looks like

Somatic practices for stress management and healing

Practices to connect and engage with our ancestors in order to ground ourselves during difficult times and enrich our self understanding

Non-judgemental acceptance of what life presents

How to be loving, open and vulnerable... but still fierce!
Other Benefits:
Opportunities to join weekly live group sessions with Lama Rod

Over

seven

hours of recorded video

and audio

that help integrate the teachings into everyday life

Opportunities to connect with others and discuss these issues on a community platform

A 35% discount coupon for Lama Rod's book, Love and Rage: The Path of Liberation Through Anger (both e-book and paperback formats, shipping is limited to the US).

A place of refuge to work with the difficult emotions arising from the circumstances of our time.
Course FAQs:
When are the live sessions?
Live sessions are on Fridays from 7:00pm-8:30pm ET from February 19th- April 2nd, 2021, as well as on Wednesday, February 17th, March 10th, and March 31st, 2021 from 7:00pm-8:30pm ET.
What if I cannot attend the live sessions?
All live sessions will be recorded and posted on the course platform for you to watch later.
Is there a refund policy?
Full refunds are available prior to the start of the course on February 15th, 2021. Once the course has begun we are not able to issue refunds.
Is there financial assistance available?
Through the support of those who give at the Pay it Forward level, we have a limited amount of scholarships available. Email [email protected] if you are in need of financial assistance. If you are able to contribute to our ability to offer scholarships, your generosity by choosing the Pay it Forward supports our ability to offer more financial support. 
Do I need to read the book?
It would be helpful, but not required to read the book while participating in the course.
How long will the course materials be available once I register?
All course modules will be available indefinitely.
If I participated in the last online Love and Rage Online Course, would it be worth it to sign up for this Love and Rage 2.0 Course?
Definitely. Besides recording all new and higher-quality videos and adding additional course modules and practices, we took feedback from past students and incorporated it in this new, expanded offering. The course will also feature more community interaction and additional opportunities for connection.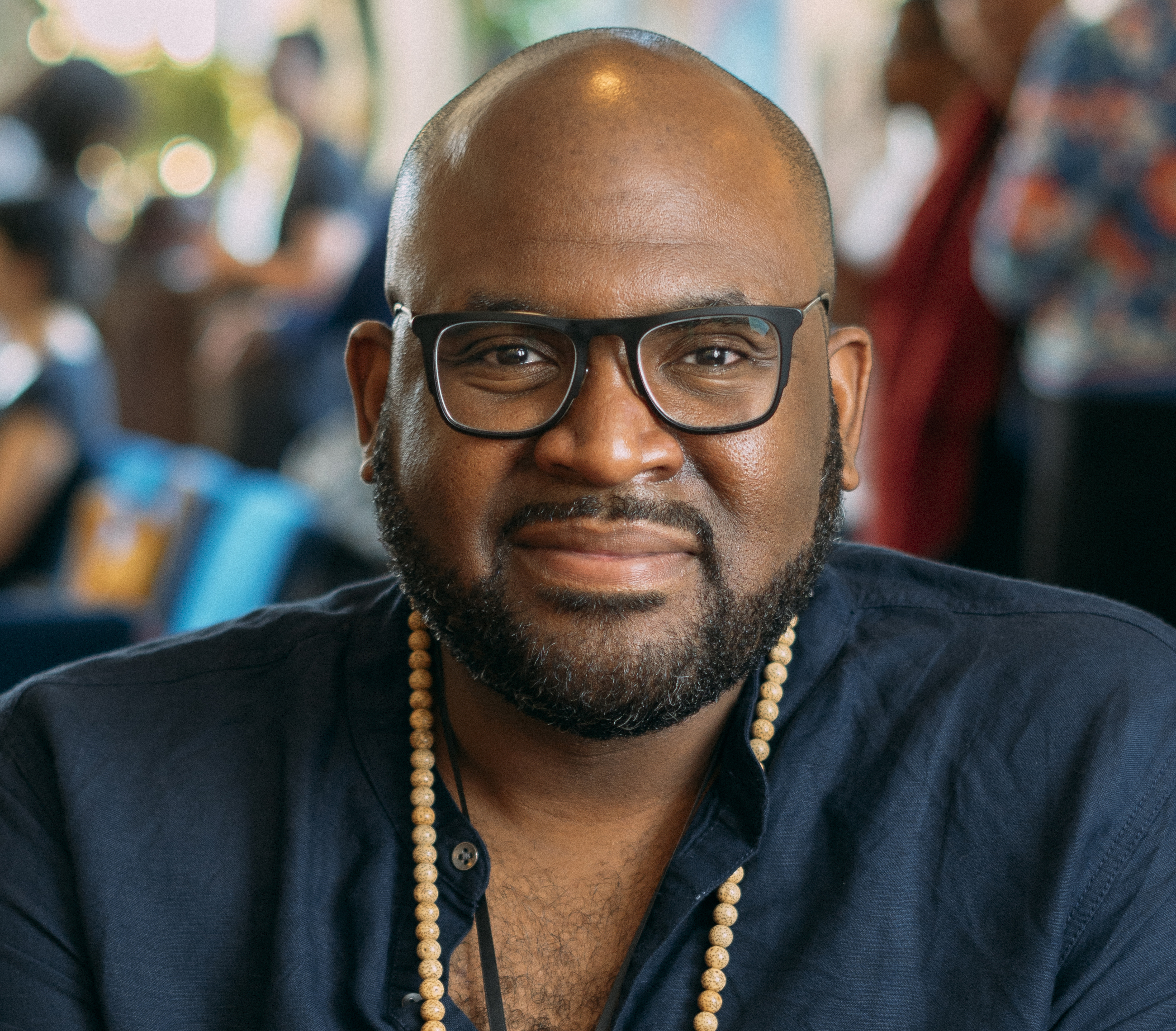 Lama Rod Owens is a Buddhist minister, author, activist, yoga instructor and authorized Lama, or Buddhist teacher, in the Kagyu School of Tibetan Buddhism. He is one of the leading voices in a new generation of Buddhist teachers. Lama Rod holds a Master of Divinity degree in Buddhist Studies from Harvard Divinity School and is a co-author of Radical Dharma: Talking Race, Love and Liberation and author of Love and Rage: The Path of Liberation through Anger.
Feedback from previous Love and Rage Online Course participants:
"This course was just what I needed at the right time! Having the opportunity to be in live conversation with Lama Rod and learn from him has been invaluable to deepening my practice and self-understanding. I appreciated hearing about the various practices and chapters in the book directly from Lama Rod. This course has been a treasure, a gem that will remain with me."
"I took this course primarily to work with anger but what I found while doing the course was that what I needed most were the practices of calling in my circle of care to support me - to take refuge, and the practices for mourning. Partially "right thing at right time", partially just things I hadn't thought I needed that it turns out I sorely did. Both of those practices have felt transformative to both my existing practice and to my outlook/perspective on life."
"This course provided me with so much support during a difficult time. I also feel like the course has started me on a process to be able to feel and process my anger."
"It has been so amazing to be affirmed in my journey through my anger to deeper knowledge of myself and the people/communities around me. I am not someone who prioritizes meditation, but the opportunity to explore meditation, and in a way that affirmed the daily "little" meditations, was very healing. Lama Rod introduced the material in a way that was very freeing and seemed to me to meet me where I was at, while also leaving space for expanding."
"This course gave me hope. For the first time in almost five years I felt "connected" to others who share my vulnerability, spirituality, and compassion. 
I thought I was alone, now I know we are a team of Bodhisattvas just meant to feel the depths of love and rage, to help heal the world."
"Magic. I am experiencing the most difficult period of my life and these teachings are invaluable. I experienced insights like holding intense pain within joy and touching earth that were completely new to me. Lama Rod offers profound teachings in a way that demystifies them in an accessible way."
"I loved this course. It was very helpful for me to deepen and apply my learning from Love and Rage with Lama Rod Owens. I would take this course any time, but during the pandemic, holidays, and election, it felt especially timely for me."
"It has helped me deepen my love and compassion practice and given me more tools to resource myself through difficult times so it's been really amazing for me."
"The course provided a space to go deeper and really internalize and embody the content from the book. It's easy to just read it from an intellectual place, but I didn't want to do that, and the course helped me process it not just mentally but also in an embodied way, and that was very helpful."
"It has truly allowed me to take the time to integrate some wisdom, to create some spaciousness within, and get to know myself more, and how I can interact with the world with more agency. I completely love Lama Rod, he has changed my life."
"I am so grateful. Lama Rod has answered questions I didnt even know I was asking and longing to hear answers for."
"The Seven Homecomings are changing my meditation practice- giving me a kind of support to be with difficulty. Having a teacher who is so dedicated to honesty and justice and who is queer and black is changing me. The way Lama Rod shines a light on suffering and the political necessity of waking up is deepening my dedication to my practice. I have never had a true bridge between my meditation practice and my political life and I am so grateful to be experiencing this."
"The course was an anchor these last several weeks. The structure offered a pleasant balance of achievable tasks during this rough, strange time we're all sharing. I found comfort and satisfaction having something to work on that was beneficial for my mind and soul. The material met me where I am, and helped me recognize that the work I've been doing the last several years is deeper in my bones than I knew. I am deeply grateful to Lama Rod and his team for facilitating this course because it has deepened my skills and bolstered my spirit."
"Literal lifesaver during these isolating COVID times, so appreciated."
"It has helped me make space around difficult emotions, relate to myself with compassion, recognize the need to practice mourning and spritz regularly."
"I've found it hugely helpful. Can't tell you the difference it's made and been feeling so grateful to everyone that made it happen. Thank you so much!"
"This course has been sustaining; it came just in time to take me through the rest of my semester as a uni professor, and it helped me feel that I had the resources to support my students through this difficult time, while not neglecting myself, or ignoring my emotions."
"I'm so grateful for this opportunity at this challenging time. Many blessings to all who worked to bring this to fruition and carry it out."
"The experience has been so insightful and loving. It's helped me work through a lot of unprocessed experiences and emotions at a time when I've generally felt really depleted. I had been unsure if I could commit to anything else. But I am so glad I did. So grateful for this experience."
"I do a lot of work with college students, and a lot of it has to do with race and trauma. This course helped me do a lot of the interior work i needed to do in order to be present for them. So thank you."
"The opportunity to learn from and practice with Lama Rod has been centering, thought-provoking, and enlightening. I really appreciated the opportunity to "apply" Love & Rage. It brought the words off the page and made them three dimensional."
"I'm so grateful for a truly beautiful, affirming experience!"
"This course has helped me reconnect to practice and renewed my commitment to my own healing. The SNOELL practice has been a valuable tool in supporting my mental health. I feel more grounded and able to face more of my internal and external experience."